Our colleagues from project partner Eight Bells participated in the 22nd European Conference on Cyber Warfare and Security ECCWS2023, which took place in Athens, on June 22-23, 2023, hosted by the Hellenic Airforce Academy.
More specifically, REWIRE has been presented in the Poster Session, with a technical poster accepted. Fruitful discussions took place with the poster session attendees related to the vision of the project to deliver a holistic framework for continuous security assessment of open-source and open-specification hardware and software for IoT devices and the development of cybersecurity certification.
The accepted REWIRE poster is presented below and it is also available at the 'Media Kit' section of the website.
See below selected pictures from the event.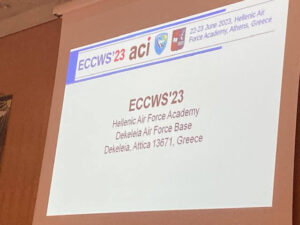 More information on the outcomes of the conference can be found at https://www.academic-conferences.org/conferences/eccws/eccws-future-and-past/. Visit this link to see more photos from the 2-days event.